In this bulletin we share timely medical advice for your pets.
D.E.L.T.A Rescue is the largest "No Kill, Care-for-Life," Sanctuary of its kind in the world. Our goal is to prolong life in a meaningful way. We keep our animals comfortable at all times. Medical conditions such as heart disease, cancer, kidney disease and other chronic illness are treated here without a ceiling on costs. Whatever our animals need, they get.
The Super Sanctuary has a total of two state-of-the-art hospitals that include dog and cat intensive care units, digital radiographs, disgnostic utrasound, physical therapy and rehabilitation, deep-tissue ultrasound, electrostimulation, treadmill and hydrotherapy.
Many may not know that D.E.L.T.A. Rescue established the world's first kidney dialysis center for dogs and cats at UC Davis over 25 years ago.
"The contributions that Leo Grillo has made have been instrumental in making animal dialysis a reality today."
– UC Davis Veterinary Medical Center Professor Dr. Larry Cowgill
This is valuable medical information and urgent bulletins that may be helpful for your pets!

For
Email Marketing
you can trust
---
View e-VET ALERT Archive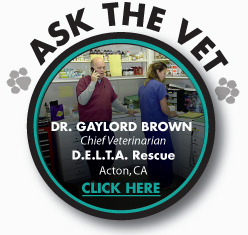 D.E.L.T.A. Rescue receives no help from the government and relies solely on donor contributions. Supporters may tour the Sanctuary at our scheduled members only tours. Donor Privacy Policy.
Please Make A Donation
Don't like to donate online? Call us at (661) 269-4010
To donate by mail, send check to: D.E.L.T.A. Rescue, P.O. Box 9 – Glendale, CA 91209
Learn how you can help. We need your support!
We are a certified 501c3 organization – Tax ID #: 95-3759277
To donate via credit card or Paypal click the heart link.