All residents at DELTA Rescue no-kill animal sanctuary are family, and Polly was one of our kids.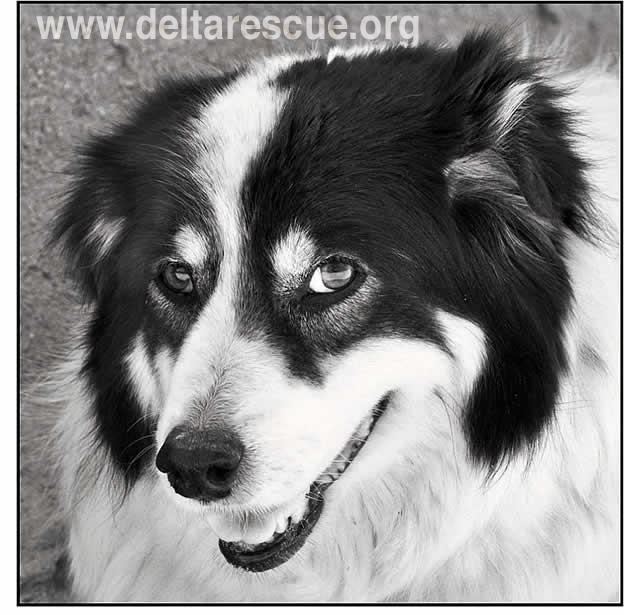 Polly was a pretty little girl who fought for the first half of her life, against hunger, exposure and many diseases.
I can't get Polly out of my head . . . and my heart.
I was going to tell you about her 5-years with us, and take new pictures for you to see her now. But the day I went to our sanctuary to see Polly, she was admitted to our hospital.
Polly was only ten-years-old but she had been through so much that she got used to our hospital as the place that always fixed her up again!
When she passed away I was shocked, and heart broken. Every month when it's time to write to you again, I pick a dog or cat or new rescue and tell you about how your gifts helped make the big difference in her life.
This month it was Polly. But when her soul was taken to Rainbow Bridge, I could not think of another angel to tell you about. I have to honor Polly in this special way and I am sorry to have you share my pain.
Polly was born in the desert 10-years ago. She was a very smart puppy, and she managed to survive by sneaking in and out of populated areas to track down some trash to eat.
Though Polly was one of the lucky ones who learned to avoid the people who would harm her, she couldn't avoid the invisible dangers of nature, one of which is the deer tick that carries a fatal disease.
Polly was 6-years old when I first brought her to our hospital's Intensive Care Unit . . . and she had full blown tick fever. For over a month, Dr. Brown steadfastly gave her blood transfusions and IV antibiotics to combat her disease.
Tick fever is like having rat poison injected into your blood stream. Your blood will not clot and you die from bleeding out. I have seen this horror more than once. All during that time, our poor Polly was flat out on her side, close to death. We gave her lots of love while she slept, trying to encourage her to live . . . hoping she felt us in her dreams. It think it helped, because one day she just woke up and started eating!
For over 6-years in the desert, Polly wondered why she had to struggle so hard to survive, every day being harder than the one before. I'm sure she saw luckier dogs now and then, walking beside their humans . . . but if she tried to walk beside someone, she was probably kicked away.
Polly carried on her struggle for so long because she knew in her heart that somewhere, if she looked hard enough, she could find the love that all dogs are meant to have. And she finally did, thanks to people like you.
After two years with us we found that Polly had a heart condition, a result of having had tick fever. A year later we found deterioration of her spine. Last year we found Cushing's Disease and began treating her for that too.
When she came into our hospital for the last time, she had a problem with one of her legs. She was smiling, eating and happy so I didn't think it was serious.
Polly was such a happy dog that I knew I had to tell you about her, and I planned her photo shoot. What none of us expected was her kidneys to fail abruptly one day, due to a stomach cancer that she was hiding. Sadly, I was out on a cat rescue in the desert and I could not be with her at the end. But Polly was in unexpected and terrible pain and our doctor had to help her pass. I kicked myself for not being there with her, though I did save a mom and litter.
Please honor Polly with your gift today. I know she is watching.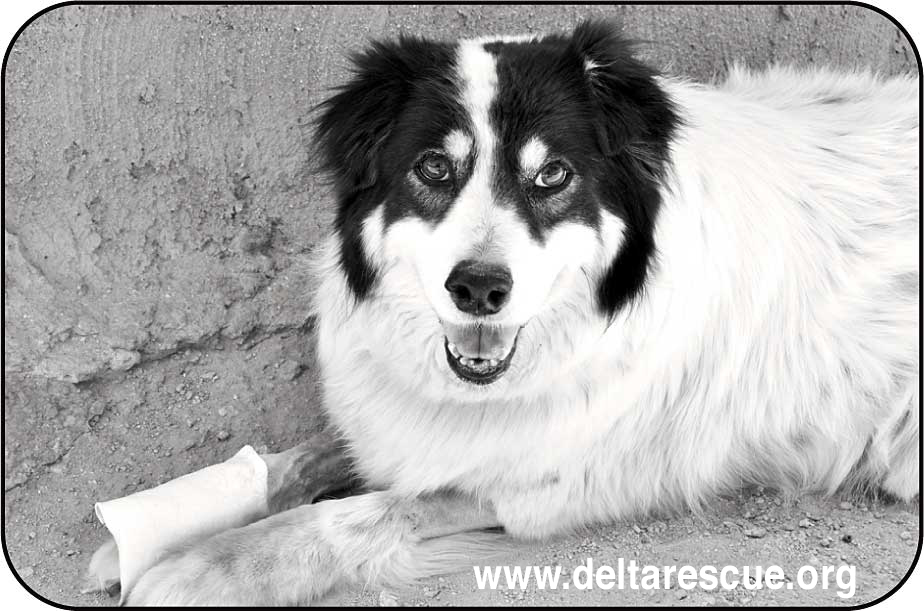 This is a picture of the first time in her life that Polly ever had a treat, and she held it tightly between her paws. It was my greatest joy to present her with it. Everything was new to her back then, and she enjoyed five Christmas stockings since. I will miss her until we meet again at Rainbow Bridge one day.
For the animals,

Leo Grillo, founder
Don't like to donate online? Call us at 1-661-269-4010
To donate by mail, send check to: D.E.L.T.A. Rescue, P.O. Box 9, Glendale, CA 91209