This beautiful little China Doll was tossed away with her dad. And she had a heart condition that needed urgent care.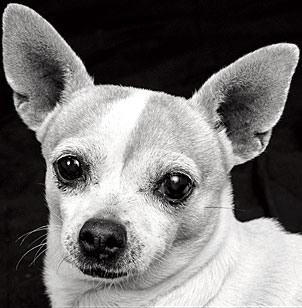 Here's what people like you have done for little angels like China Doll and Chewy, who were cruelly abandoned . . . .
Exactly nine-years-ago this week we rescued China Doll . . . back then a one-year-old Chihuahua . . . and her father, Chewy. Chewy was then six years- old.
How somebody could abandoned these two little dogs is beyond me.
I have seen enough abuse, neglect and abandonment for ten lifetimes! I can't stand being on a planet where the human stain hurts these innocent animals. But I guess I asked to come to a place where I was needed most. And I think you did too.
Neither of these dogs would be alive today if it weren't for our Sanctuary. And we've saved their lives more than once . . . .
When little China Doll was examined, she had a heart problem. That's why we think Chewy is her father. People inbreed their dogs out of ignorance or greed. And inbreeding leads to all kinds of congenital defects.
Well, if she didn't starve to death or get killed by predators from the land and the air, China Doll would have died of her heart problem years ago. But with medications and careful monitoring, China Doll has enjoyed a full life with her dad. She's only ten, but those are nine years she would not have had.
This is the importance of our care-for-life sanctuary. It is not just housing dogs and cats like a zoo. It is rescuing animals who are facing certain death, who have no where else to turn . . .and then caring for them, for life.
Routine medical exams catch all sorts of problems that could be life threatening. Almost half our population is on medication for something that would lower the life expectancy of a family pet.
China Doll has a heart problem that would have killed her years ago. But we treat her daily, and she is doing well despite her condition.
Another life-saver is that our animals are mostly afraid of people, because life was not so great before they were abandoned either. And being so different from family pets who get surrendered, if the pound gets a dog like this, they have to euthanize her right away . . . because they know that nobody will adopt her.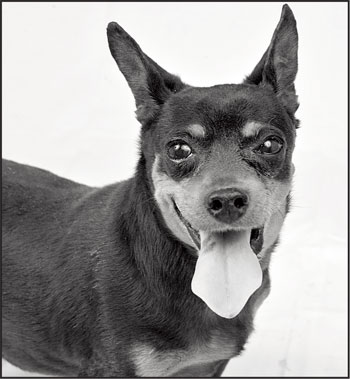 Nobody caring about these little angels causes them to be dumped in the first place, and nobody caring enough to adopt them at the pounds gets them killed in the end. But for Chewy and China Doll, we stood between those two certainties. Without us, there would be even more tragedy.
Chewy, her dad, has been on meds for his thyroid problem for seven years. And he is treated daily for his glaucoma. At fifteen, few people would keep this little man under constant veterinary care.
I know Chewy is grateful to you for saving them both. Not only did we give him a safe, loving home, but we made his life's wish come true . . .
. . . that his little girl, China Doll, will be safe and loved even after he is gone. Let me tell you, I know what a relief that is for Chewy. My "baby girl" is turning fourteen this month and my major worry is for her future. I wish WE were our dogs!
So please . . . help the miracles to continue. Send your best gift to our mission today. I always say "best" gift because sometimes you are strapped and you can't help as much as you'd like. But other times you are doing okay and you'd like to help these innocent beings even more.
For the animals,

Leo Grillo, Founder
Your life-saving gift will help . . .
Rescue cats and dogs who are abandoned, or born, in the wilderness.
Love and care for them daily at our "no-kill" sanctuary.