Give A Christmas Love Stocking
It's Christmas again! Every year as I order Christmas Stockings for each of our animals, I smile, knowing how happy it makes them to get this gift.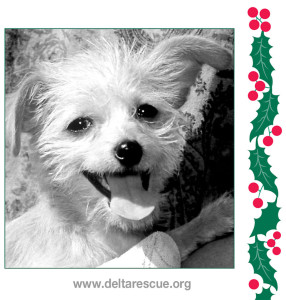 For some of our animals, it's their first Christmas with us, and our chance to spoil them a little. But sadly, for others, it's their last … so I want to do MORE to show them how much we love them. That's why I'm sharing our "Christmas Love Stocking" today.
As you know, during Christmas I painfully remember all the animal friends we've lost this past year. And I think of all the ones who are spending their last Christmas with us this year. And I'm so glad we can do this one extra thing for them …
… giving them a Christmas stocking full of goodies. The joy in their eyes is very moving, reminiscent of the joy we felt as little children when our parents filled our stockings on Christmas morning.
Knowing you'll help, I've already ordered one stocking for each of our animals. I couldn't bear to have any little face looking up at me hopefully, and having nothing left to give out.
Please send your gift for at least one Christmas Love Stocking … because you and I can choose our happiness, but the animals can't. They have to take whatever this world dishes out, good or bad.
I've never said "no" when it comes to these angels. I just can't say no … ever.
So please don't say "no" to them today, either …. It will take you just a moment to sign your "Christmas Love Stocking" and return it to me, along with your special holiday gift.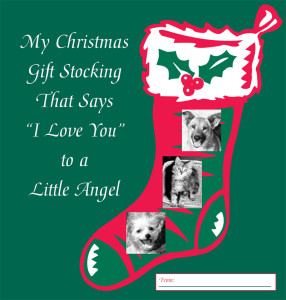 Can you believe it?! $8.35 provides a Christmas stocking full of treats for one cat or dog … and they are just as full of goodies as they always have been! $16.70 provides for two. $25.05 for three, $33.40 for four and $41.75 for five.
And this is not just a nice story or wishful thinking! Our dogs KNOW which stocking is theirs … it hangs on the gateway to their yards, and twice a day their caretaker gives each dog a treat from his own stocking!
You should see their eyes darting back and forth between the stocking and their caretaker. They know! And they will know, thanks to your Christmas Love Stocking, that they are loved.
You can give this gift to as many dogs or cats as you like. And this year the stockings are huge again … with over two dozen healthy treats in each one, all made in the USA!
Believe me, the suffering and hardship all these cats and dogs have endured was intolerable. Some thought they would die for sure … alone and unloved. Some never knew anything else.

But thanks to people like you, they were saved from that horrible fate. And now their future is entirely up to us.
They deserve a happy and healthy life. And they deserve a Christmas party! When we give out those stockings, it will be a party … and you will be there too, in the spirit of love.
The best gift you can receive is the one that you give, out of love. And this year, again, we all need that special gift.
So please, download your Christmas Love Stocking today, and tell me how to spend your much-needed gift of support. Fill out the coupon on the back of the stocking and send it with your check.
Please be generous to as many animals as you can … sending them Christmas Love Stockings … by filling out the second "extra gift" coupon. Then notice the feeling of peace that comes over you as you seal the envelope … that is their gift to you.
For all the beloved animals,
Leo Grillo, founder
My family and all of our 1,500 rescued animals, join me in wishing you a very, very Happy Holiday
TO DONATE BY PHONE
Please call us at 1-661-269-4010
TO DONATE MY MAIL
Download your Christmas Stocking TODAY & Mail TO:
D.E.L.T.A. Rescue, P.O. Box 9, Glendale, CA 91209
We are a certified 501 (c) (3) non profit organization Tax ID #: 95-3759277