#GivingTuesday and DELTA Rescue
#GivingTuesday is a global day dedicated to giving back. People from around the world will come together to celebrate generosity and to give. It's a simple idea.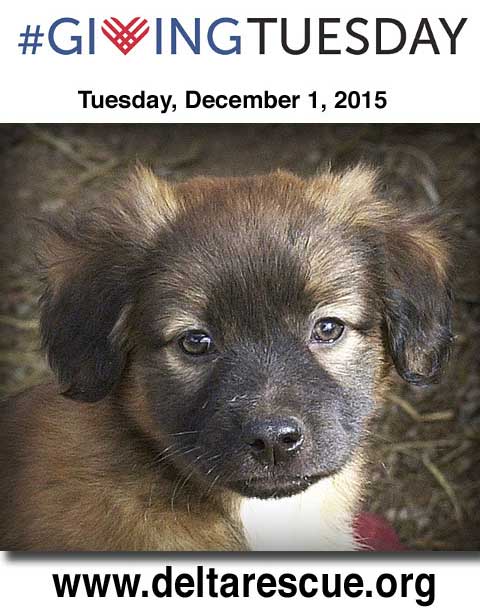 Please join in, and find a way for your family, your community, your company or your organization to give something to DE.L.T.A. Rescue (Dedication and Everlasting Love to Animals) the largest "No Kill, Care-for-Life" Animal Sanctuary of its kind in the world.

Please Make A Donation Today.
100% of your donations go directly to the animals of the Super Sanctuary

.

Thank you for supporting our work here at D.E.L.T.A. Rescue. We are a certified 501c3 organization. Tax ID #: 95-3759277
To donate via credit card click the link below.
Thank You.
Leo Grillo, founder

After you donate post a great selfie of you and your pet on any social media avenue and show the world your love of animals. Don't forget to use the following hashtags! #GivingTuesday #DeltaRescue #DeltaRescueSanctuary #AnimalsArePeopleToo
To Donate by Telephone or Mail a Check
TO DONATE BY PHONE: please call us at 1-661-269-4010
TO DONATE BY MAIL: please send a check or money order to:
D.E.L.T.A. Rescue, P.O. Box 9, Glendale, CA 91209
LEAVE A LASTING LEGACY TO D.E.L.T.A. RESCUE: A legacy can be a great way to ensure that your D.E.L.T.A. Rescue continues to receive vital funding beyond your lifetime. Learn more about Estate Planning donations.
We are a certified 501 (c) (3) non profit organization Tax ID #: 95-3759277
Did You Know?
D.E.L.T.A. Rescue is the only organization that absolutely refuses to accept animals from the public when they want to give them up. Instead, D.E.L.T.A. Rescue became the first no-kill, care-for-life organization in the world, and rescues only animals who are abandoned in the wilderness.
We have two veterinary hospitals and a full time veterinary staff on the premises. We have state of the art equipment and are able to give the finest care possible to all the residents of the Super Sanctuary.
The founder, Leo Grillo is not paid and does not have any compensation package from the Sanctuary. He simply has a love of animals.
Dedication & Everlasting Love To Animals
P.O. Box 9, Glendale, CA 91209 ~ tel. 661-269-4010 ~
DONOR PRIVACY POLICY