Thanks to people like you- our sanctuary is the only hope on Earth for these little angels.
I am proud that this is Kipper's home. It belongs to her and all the animals here. I built it and I keep it safe, but they own it. And they allow me to be their custodian. I am proud of that too.
I remember New Year's Eve 2010 and Kipper was about 10-months-old and pregnant, and she had tick fever. She had been born in the deep desert herself.  We rescued Kipper twice, once from the desert and then from tick fever, which we were treating.
But of course things come in threes! Kipper was pregnant and she was in pain . . . unable to deliver her litter herself. In the wilderness she would have died in agony and her puppies would have suffocated.
But Dr. Brown came in to do an emergency C-section and before the ball dropped in New York City, Kipper had six puppies . . . named Countdown, Times Square, New Year's, Resolution, Noisemaker, and Confetti!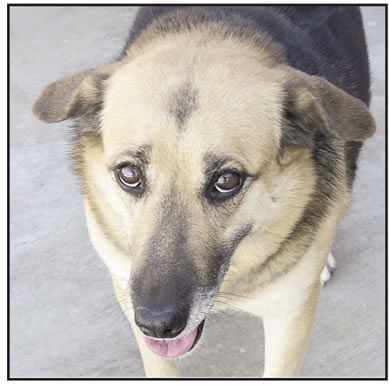 Yesterday I was at our hospital deciding which grateful cat or dog to tell you about this month. Kipper was in the grooming room where she just had a bath. She looked happy, and since she was so beautiful I decided to tell you about her. With all that's going on in the world, we need to see some beauty to reassure us!
But when I opened the door to take Kipper out back to get some sun light for her portrait, she bolted like a frightened rabbit.
Kipper was running all over making the taking of any usable picture for this letter nearly impossible. When she finally tired out, I got a few snapshots.Then I thought of her in her yard during our tours . . . happily.
I can still see our partners asking why our dogs cannot be adopted.
When I go through the litany of reasons, one of the demonstrations I give is to let a volunteer go into a yard where these happy dogs live, As soon as the gate opens and a stranger walks in, the dogs run into their houses and many of them shiver in fear as the visitor tries to coax them out for a treat.

Kipper reminded me again of why we DELTA is so special.
None of these dogs would be alive today without our help. None. They all would have died alone in the wilderness. And if they were magically transported to an animal control shelter, they would have been killed there as being un-adoptable.
Even the friendly lap dogs are killed there, let alone fearful ones. So there is only one place on Earth where dogs like Kipper can have a long and loving life of complete safety and joy. And all these angels would have crashed and burned in the wild if it were not for this mission and people like you.
Kipper is healthy and she has had only routine medical work and dentistry. A few months ago Dr. Brown noticed that her thyroid was kind of slow and she had gained some extra weight. So he put her on a medicine to keep her in top shape. Being almost the same age as her puppies, they will all enjoy each other's company for many more years.
From nothing, almost to less than nothing, and then to everything . . . thanks to people like you . . . is what makes our sanctuary the only hope on Earth for these little angels.
PS: After I got her picture, I opened the door to the hospital and Kipper ran into a grooming cage where she felt safe again. There she smiled for you.

Please help me continue this mission, send your best gift to our animals today.
For the love of animals,


Leo Grillo, founder
We are a certified 501 (c) (3) non profit organization Tax ID #: 95-3759277
To donate by mail, please send a check or money order to:
D.E.L.T.A. Rescue, P.O. Box 9, Glendale, CA 91209