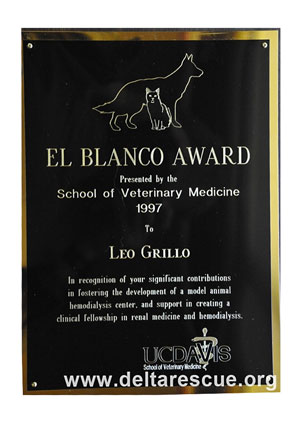 In 1997 Leo Grillo received the EL BLANCO AWARD from UC Davis School of Veterinary Medicine for establishing the worlds first kidney dialysis center for dogs and cats. Since then DELTA Rescue and it's two state-of-the-art hospitals with Chief Veterinarian Dr. Gaylord Brown continue to help animals from around the world.
D.E.L.T.A. Rescue Has Been A Forerunner In Rehabilitation Medicine
We were one of the first facilities to utilize magnetic resonance, therapeutic ultrasound, and cold laser therapy to treat orthopedic degeneration and injuries. We constantly look for cutting edge treatment modalities to treat our aging population.
Hospice Care
D.E.L.T.A. Rescue continues to develop hospice care to assist those animals in humanely passing to the other side. This includes drug therapies and physical therapies to alleviate discomfort. We continue to explore alternative cancer therapies for both palliative and definitive cures.
Tick Fever Treatment
Through our efforts on rescue of dogs from the southern desert we have gained valuable information in the treatment of tick fever. This includes both during the acute phase and management of occult infections. We have also gained information in the management of canine influenza in an isolated population.
With cats we have learned much about the management of cats with FeLv, FIV, and FIP. Testing positive for these disorders is no longer a death sentence. Through the efforts of one of our staff veterinarians there is a pending publication on the safe long term use of corticosteroids in cats. This paper has dispelled some of the myths surrounding using anti-inflammatory doses of this medication.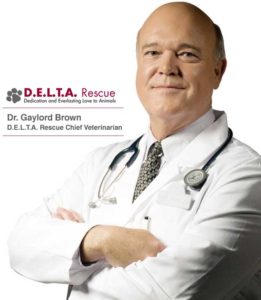 We will continue to search for and implement techniques that will enhance our animal's quality of life.
We have created a large database of questions asked by pet owners and answered by our Chief Veterinarian Dr. Brown.  Below are questions asked about vaccinations:
IF THIS IS AN EMERGENCY, PLEASE CONTACT YOUR VETERINARIAN IMMEDIATELY.
---
Your Life-Saving Gift To The Animals
Your life-saving gift will help rescue cats and dogs who are abandoned, or born, in the wilderness.  Your generosity will help provide love and care for them daily at our "no-kill" sanctuary.
Stop automatic donations at any time by calling us at 661-269-4010.

---
Don't like to donate online? Call us at 1-661-269-4010
To donate by mail, send check to: D.E.L.T.A. Rescue, P.O. Box 9, Glendale, CA 91209