This is Zebra a 9-year-old Dalmatian and German Shorthair Pointer mix. And she is "Miss Personality!"
You know how some people are just blessed? They have the good looks and the great personality . . . you just know they will do well in life? That's Zebra!

She is still a child in her middle years.  She loves to play, stand up on you, be hugged . . . and get all the attention a child wants when you're around.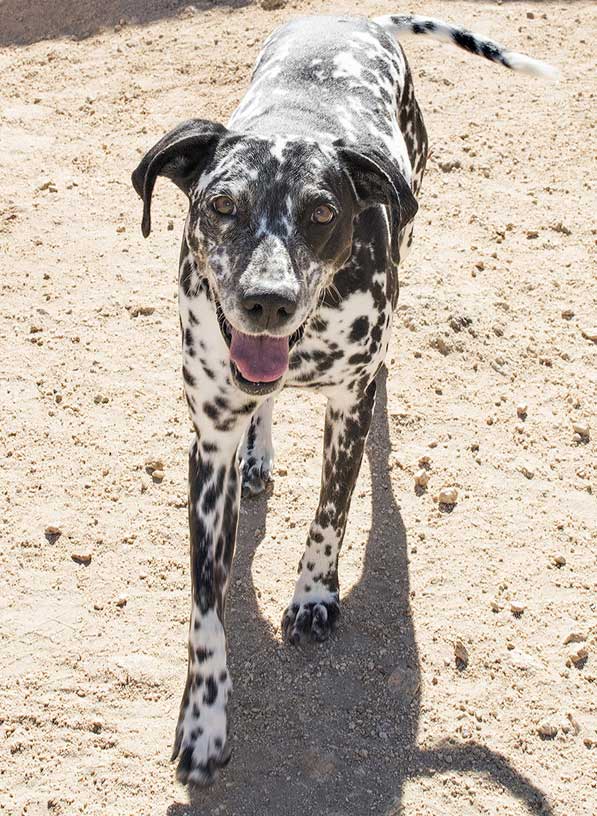 Now when you meet someone who has all the "right stuff" going for them, you imagine how lucky they are. But you don't know what will happened to them eventually. Maybe they will have it easy, or maybe they will have to bear a life-changing hardship.
In Zebra's case, this pure spirit had been abandoned in the treacherous deep desert.
She contracted the deadly tick fever, for which she is still treated. She was out there long enough to have a tick infestation, so it was no picnic. And she was young. We spayed her soon after we brought her to our hospital. But in all this Zebra remained optimistic. Like she knew we would rescue her and give her this wonderful life. So she hung on for that day.
Zebra never gave up and she never lost her optimism. She must have known we would come for her. In the decades ahead, we must be there for other angels who search for us too.
Please send your best gift to support our sanctuary today, and maybe think about making them more of your legacy too.  
Yes, Leo, I want to help you rescue animals abandoned to die in the wild, like our spirited Zebra.

Here's my life-saving gift of . . .

We care for our rescues . . . for life. This is what makes us different from everyone else.