Make Your Legacy Work For The Animals
Warren Eckstein is an American pet behaviorist, animal trainer, and animal rights activist. In the video below he shares his recent visit to the Super Sanctuary, and discusses why he and his wife made a Bequest to D.E.L.T.A. Rescue.
Please keep this sanctuary alive for animals who face death in the wilderness by making D.E.L.T.A Rescue part of your estate planning. We care for our rescues . . . for life. This is what makes us different from everyone else.
Simply click any of the estate planning topics below to learn more:
---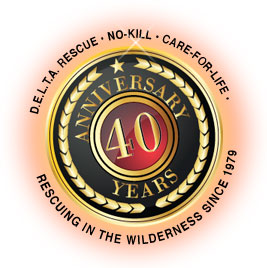 We Need Your Support!
We are an organization dedicated to rescuing animals abandoned in the wilderness and stopping the cruel practice of animal abandonment.

By being a part of our mission you are the difference between life and death for so many. You are rescuing marooned angels, and helping love and care for them daily at our "no-kill" sanctuary. Donor Privacy Policy.
Legal Name: Dedication and Everlasting Love to Animals
Federal Tax ID: #95-3759277
Address: P.O. Box 9, Glendale, CA 91209
Telephone: (661) 269-4010
---
Estate Planning Questions:
---
Below we offer Miriam Bostwicks book "Animal News From Heaven". We ask you to please read Leo Grillo's Legacy Letter. And watch and share the feature film "The Rescuer"